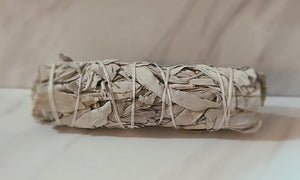 Burn Sage to cleanse your space & Self of negativity. Burning Sage is a Native American tradiiton.
With so much going on in today's world, the idea of cleansing our spaces and ourselves of negative energy sounds pretty good. The ritual of sage burning is also called smudging.
Sage comes from the latin word salvere, which means to heal. . 
Sage can benefit your mental, physical, mental and emotional well-being.
Medicinal smokes like sage are antibacterial and antimicrobial. It can also lift spirits and improve your mood.
Be safe and use your intuition to know when to use it.