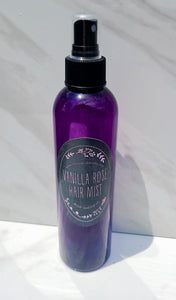 Vanilla Rose hair mist with vetiver essential oil blend. 
Does your hair need moisture? Well my hair does. There was a time when I would use plain water to mist my hair.
Then I fell in love with floral waters, hydrosols and aloe vera juice.
Great for hair going through hormonal changes like menopause or pregnancy. We love guys too and this product is good for everyone. 
Not to mention the benefitis of pure essential oils and there you have a beautiful blend.
This product is great for naturally curly, kinky or hair that tends to be dry. Really all hair types would benefit. 
Specific hair mist for your natural hair needs. 
Of course as always made with lots of love inspired by nature's botanical beauty.
Each 8 oz bottle comes with a sprayer for easy application. 
Look for other scents or send your request,