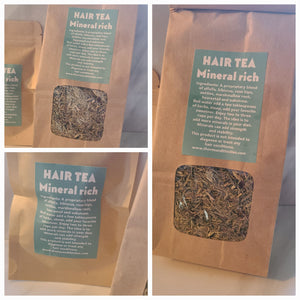 Mineral Rich Hair Tea a nutritional supplement 
design to nourish your body and strenghten your hair.
Tea in intended to drink as a supplement to your diet. 
A proprietary blend of alfalfa, Hibiscus 🌺 flowers, rose hips, nettles, marshmallow root, hoarsetail and oatstraw.
Boil water add a few tablespoons of herbs steep for desired strength.
Add a sweetener if desired such as honey, raw brown sugar, agave. Enjoy two to three cups daily.
The idea is to add more nutrition in your diet in the form of minerals.
Minerals can add strength and stability to your body. This product is not intended to diagnose or treat any medical conditions related to hair loss. Please consult your physician. 
Tea packaging may vary.