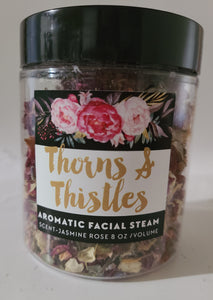 facial steaming herbs. 
Get a spa experience at home. 
designed to provide an aromatic steam for your face and aromatherapy at the same time. 
This herbs and or flowers were selected for their properties. 
Jasmine buds and an array of Rose petals sets the stage for a wonderful aromatic experience.
Thorns and Thistles hand-crafted blend of jasmine buds, Rose petals, mints, calendula flowers, Rosemary for a kiss of relaxing essential oils.  Colors of flowers and herbs will vary, depending on seasonal supply.
To use the aromatic facial steaming herbs, you simply take a few teaspoons or tablespoons, add them to a bowl of freshly boiled water. You put a towel or cloth over your head, and put your face close enough to the bowl to feel the steam and inhale safely the blend of soothing herbs.
After you relax, breathe and enjoy, your pores will be open and joy will be felt. You can then apply a deep cleanser or facial scrub. follow up with cool water or an ice cube to close your pores then, add your moisturizer.
Enjoy
Herbally yours,