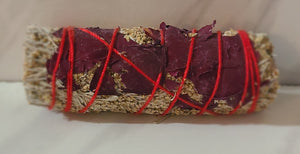 Beautiful Rose Petals and Blue Sage Smudge Sticks.
Burn Sage to cleanse your space & Self of negativity. Burning Sage is a Native American tradiiton.
Sage comes from the latin word salvere, which means to heal. . 
Medicinal smokes like sage are antibacterial and antimicrobial. It can also lift spirits and improve your mood.