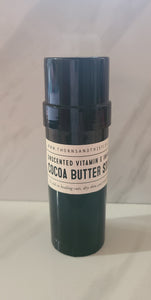 Pure cocoa butter and vitamin E  stick
Do you have imperfections, new scars or irritated skin or hyperpigmentation.
Then your skin could benefit for our wonderful Vitamin E and pure raw cocoa butter
This handmade wonder is formulated with pure vitamin e, raw cocoa butter that has a natural nutty scent, jojoba oil
Together you have a winning combination for new moms to enjoy on their belly
It is all natural and can be used from head to toe.
This is a convenient size for your traveling.