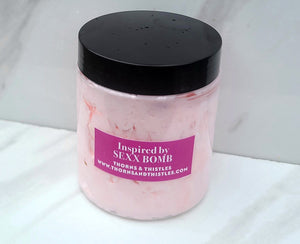 ***butters only available for local central Va deliveries until cooler temperatures fall 2023.
Sorry for the inconvenience. Product nay melt with extreme heat. 
Our body butters are made with Sexx bomb, inspired by LUSH cosmetics fragrance. 
Sexx bomb fragrance notes are jasmine, ylang ylang and clary sage.
Handmade with love, exotic butters and plant-based oils. 
A luxurious blend of Shea butter, mango butter, cocoa butter, coconut oil, vitamin E, jojoba oil, and a proprietary blend of fragrance and essential oils inspired by Lush Sexx bomb scent. 
xoxox